Belmont Brokerage & Management, Inc.
Two factors distinguish a great company from other companies of their kind. One is attention to detail. Since 1982, Belmont Brokerage & Management, Inc. has distinguished itself in Long Beach by attending to the details of managing and brokering residential income property. The second factor – almost old-fashioned today – is a desire to make a difference in clients' lives.
W. Kurt Wood, Belmont President, who holds undergraduate and graduate degrees in finance from the University of Southern California and Long Beach State University respectively, founded Belmont Brokerage & Management, Inc., bringing an in-depth knowledge of real estate, finance, accounting and taxation to the business. With his financial background in corporate, small business and real estate matters, Wood has provided the guiding influence for Belmont's corporate philosophy since the company was founded. Wood was eventually joined by Michael Martinez, a seasoned-veteran in the property management industry, with extensive training in maintenance, collections, accounting, legal/civil codes, staff supervisions and property habitability enforcement statutes, that complements Wood's strengths. Together, these seemingly unstoppable guys have created a full-service real estate brokerage and management company.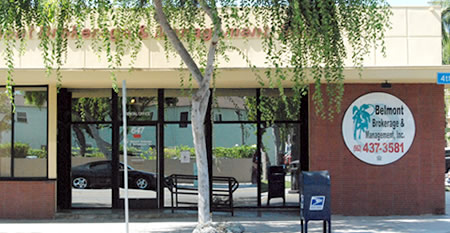 Wood, a Certified Public Accountant, Certified Property Manager with the Institute of Real Estate Management and a Realtor® with the Pacific West Association of Realtors, holds Belmont to a higher standard, subject to both institutions' codes of ethics, by continually asking, "Is this in our client's best interest?" Belmont's clients have certain expectations about their investment goals and dreams of having a small business, and Belmont has created a system that can take a client's concept and respond with various approaches to making an investment dream become a reality.
With more than 1,600 apartments under management in the Long Beach area, and with annual sales in apartment buildings in the millions of dollars, Belmont's clients have peace of mind that their properties are well cared for and that each transaction will be handled in a professional and efficient manner. While Belmont has worked with many government agencies and corporate clients, an individual owner or small partnership often provides Belmont with the greatest sense of satisfaction in doing business. Small investors have often committed a substantial net worth in order to create a dream of using real estate to ensure their financial independence, a higher standard of living and future retirement. Belmont's attention to the details, including risk management, personnel training, property inspection reviews, account management, and personal involvement all work together to help clients become more profitable and realize greater success rates. As property management has evolved from doing business with a simple handshake to an eight-page contract, a knowledgeable company such as Belmont Brokerage, is invaluable to property owners.
In addition to residential and commercial properties, the company has managed a variety of facilities such as medical buildings, boat docks, hotels, restaurants, and bank buildings. With a staff of well-trained, motivated and energetic employees, Belmont Brokerage looks forward to serving the Long Beach area for many more years.